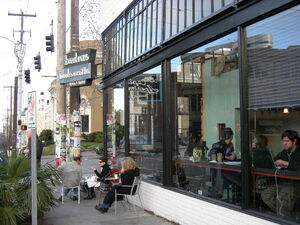 Kool-Aid and Ding Dongs at a coffee shop? This menu is fairly simple with a few quirky additions. With lattes, mochas, americanos and great drip coffee they also serve some nostalgic treats including various soda pops, italian soda and Kool-Aid.
This is great place for studying, reading or meeting surrounded by floor to ceiling books and large windows looking out on Capitol Hill complete the atmosphere.
301 E Pine St (between Melrose Ave & Bellevue Ave) Seattle, WA 98122
Ad blocker interference detected!
Wikia is a free-to-use site that makes money from advertising. We have a modified experience for viewers using ad blockers

Wikia is not accessible if you've made further modifications. Remove the custom ad blocker rule(s) and the page will load as expected.