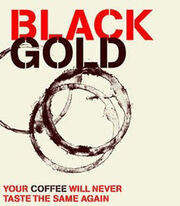 Black Gold
is a 2006 documentary about an Ethiopian farmer's journey around the world as he attempts to get a fair price for his quality coffee beans. Directed by British brothers Marc and Nick Francis, the film addresses the international coffee trade and its ramifications for the farmers.
The film took three years to make with a budget of $760,000.
The Story
"Multinational coffee companies now rule our shopping malls and supermarkets and dominate the industry worth over $80 billion, making coffee the most valuable trading commodity in the world after oil.
But while we continue to pay for our lattes and cappuccinos, the price paid to coffee farmers remains so low that many have been forced to abandon their coffee fields.
Nowhere is this paradox more evident than in Ethiopia, the birthplace of coffee. Tadesse Meskela is one man on a mission to save his 74,000 struggling coffee farmers from bankruptcy. As his farmers strive to harvest some of the highest quality coffee beans on the international market, Tadesse travels the world in an attempt to find buyers willing to pay a fair price.
Against the backdrop of Tadesse's journey to London and Seattle, the enormous power of the multinational players that dominate the world's coffee trade becomes apparent. New York commodity traders, the international coffee exchanges, and the double dealings of trade ministers at the World Trade Organisation reveal the many challenges Tadesse faces in his quest for a long term solution for his farmers." - from the official site
Trailer
Reviews
Ad blocker interference detected!
Wikia is a free-to-use site that makes money from advertising. We have a modified experience for viewers using ad blockers

Wikia is not accessible if you've made further modifications. Remove the custom ad blocker rule(s) and the page will load as expected.