Brava Brew was created and realized for our love of coffee and espresso. We have been entrepreneurs in the food and coffee business for over 35 years and best friends for a lifetime.
Our Italian heritage has always fueled our personal passion for espresso. We realize that your palate is your best critic and that your coffee experience is a personal one, unique in its own preference.
We have gathered great quality products all in one place—from a vast variety of gourmet coffees around the world, to espresso machines for your home or business—to please all coffee enthusiasts. Our line also includes soothing herbal teas, decadent hot chocolate, a variety of syrups to enhance your cappuccinos, and sweets to indulge in.
Brava Brew coffee beans are roasted when ordered, so you are always guaranteed fresh coffee. Our coffee is natural and shade grown, with nothing artificial and no chemical processing. We are happy to bring you a wonderful variety of gift boxes containing all of your favorite things, perfect for any occasion.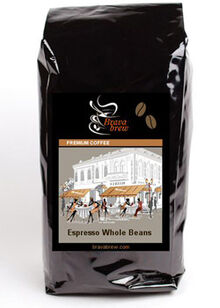 Ad blocker interference detected!
Wikia is a free-to-use site that makes money from advertising. We have a modified experience for viewers using ad blockers

Wikia is not accessible if you've made further modifications. Remove the custom ad blocker rule(s) and the page will load as expected.