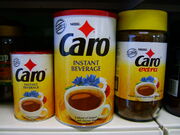 Caro is a brand of caffeine-free roasted grain beverages. It is a coffee substitute manufactured by Nestlé and was first introduced in West Germany in 1954. It is available throughout Europe as well as other markets including New Zealand. It is imported to the United States under the name Pero. The name "Caro" is the French word for "diamonds" in playing cards, as seen in the Caro logo (which is also used on Pero).
Ad blocker interference detected!
Wikia is a free-to-use site that makes money from advertising. We have a modified experience for viewers using ad blockers

Wikia is not accessible if you've made further modifications. Remove the custom ad blocker rule(s) and the page will load as expected.