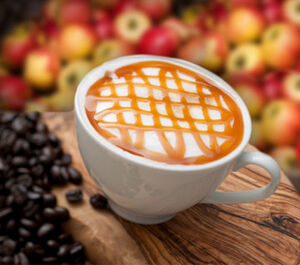 Ingredients
Cider
1 pump Caramel Syrup
1 pump Apple Syrup
1 

cup milk

2 shots espresso
Chai Tea bag
GARNISH:
Additional whipping cream, whipped
Caramel topping
Ground cinnamon
Directions
Steam the milk.
Steep the chai tea bag in water. 
Mix the milk with the caramel and apple syrups. 
Pour over brewed espresso.
Pour in 1/2 c. of the brewed chai tea.
Serve in mugs. Top with whipped cream, caramel topping and/or cinnamon.
Ad blocker interference detected!
Wikia is a free-to-use site that makes money from advertising. We have a modified experience for viewers using ad blockers

Wikia is not accessible if you've made further modifications. Remove the custom ad blocker rule(s) and the page will load as expected.