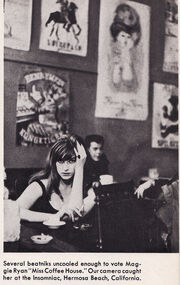 A
coffeehouse
or
coffee shop
is an establishment which primarily serves prepared
coffee
or other hot beverages. It shares some of the characteristics of a bar and some of the characteristics of a restaurant, but it is different from a cafeteria. As the name suggests, coffeehouses focus on providing
coffee
and tea as well as light snacks.
Coffee shops in the United States arose from the espresso- and pastry-centered Italian coffeehouses of the Italian American immigrant communities in the major U.S. cities, notably New York City's Little Italy and Greenwich Village, and San Francisco's North Beach. From the late 1950s onward, coffeehouses also served as a venue for entertainment, most commonly folk music performers. Both Greenwich Village and North Beach became major haunts of the Beat Generation who were highly identified with these coffeehouses.
In general, prior to about 1990, true coffeehouses were little known in most American cities, apart from those located on or near college campuses, or in districts associated with writers, artists, or the counterculture. During this time the word "coffeeshop" usually denoted family-style restaurants that served full meals, and of whose revenue coffee represented only a small portion. More recently that usage of the word has waned and now "coffeeshop" often refers to a true coffeehouse.
Ad blocker interference detected!
Wikia is a free-to-use site that makes money from advertising. We have a modified experience for viewers using ad blockers

Wikia is not accessible if you've made further modifications. Remove the custom ad blocker rule(s) and the page will load as expected.