Coffee milk is a drink similar to chocolate milk; however, instead of chocolate syrup, coffee syrup is used. It is the official state drink of Rhode Island.
History
Coffee milk was introduced to Rhode Island sometime in the early 1930s. It came about from creative diner and drugstore operators trying to attract new customers with creative drinks. One of these operators, who is lost to history, sweetened leftover coffee grounds with milk and sugar. This created a molasses-like extract that became popular. Coffee milk became a favorite among Rhode Islanders and created a demand for this coffee syrup. The demand was so great, that in 1993, it beat out Del's Lemonade as the official drink of Rhode Island.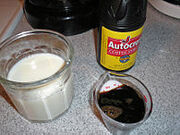 Trivia
Coffee milk is on tap in the dining halls of Brown University and the University of Rhode Island, confounding many of the students from outside the state.
The Friendly's restaurant chain not only offers coffee milk on its menu, but provides free refills. Seeing as how this is not an inexpensive fountain drink, but rather milk and syrup, this is of notable significance
Ad blocker interference detected!
Wikia is a free-to-use site that makes money from advertising. We have a modified experience for viewers using ad blockers

Wikia is not accessible if you've made further modifications. Remove the custom ad blocker rule(s) and the page will load as expected.