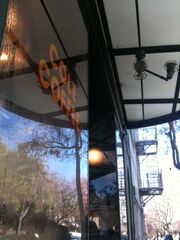 Situated where the Berkeley's Elmwood neighborhood and the arty Rockridge district of North Oakland meet, this neighborhood coffee house functions as the local anti-Starbucks. Coffees are brewed individually for each customer and the barista will only accept cash – meaning, you get real coffee for real money from a real barista who can actually count rather than merely swipe. A richer experience all 'round.
Cole Coffee 307 63rd St (between College Ave & Hillegass Ave) Oakland, CA 94618
Ad blocker interference detected!
Wikia is a free-to-use site that makes money from advertising. We have a modified experience for viewers using ad blockers

Wikia is not accessible if you've made further modifications. Remove the custom ad blocker rule(s) and the page will load as expected.