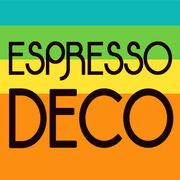 Espresso Deco
is an online retailer selling Espresso Coffee cups and saucers, coffee makers and more. Based in Chester, England Espresso Deco was established in 2011 to provide a range of coffee-related items to the 'Home Barista', the coffee-enthusiasts who have become a large consumer base in recent years.
Espresso Deco sourced their first espresso cups from German Porcelain Ware manufacturer Walkure. By focusing on unique designs in a range of colours Espresso Deco aimed to differentiate themselves from other homeware suppliers and focus on a particular niche customer type. Coupling a range of stylish cups with new offerings in Coffee Makers including the Aerobie AeroPress and Mypressi TWIST, Espresso Deco further their ambition of being a respected designer online retailer.
Ad blocker interference detected!
Wikia is a free-to-use site that makes money from advertising. We have a modified experience for viewers using ad blockers

Wikia is not accessible if you've made further modifications. Remove the custom ad blocker rule(s) and the page will load as expected.