Instant coffee, also called soluble coffee and coffee powder, is a beverage derived from brewed coffee beans. Instant coffee is commercially prepared by either freeze-drying or spray drying, after which it can be rehydrated. At least one brand of instant coffee is also available in concentrated liquid form.
Advantages of instant coffee include speed of preparation (instant coffee dissolves instantly in hot water), lower shipping weight and volume than beans or ground coffee (to prepare the same amount of beverage), and long shelf life—though instant coffee can also spoil if not kept dry.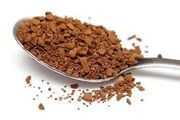 Ad blocker interference detected!
Wikia is a free-to-use site that makes money from advertising. We have a modified experience for viewers using ad blockers

Wikia is not accessible if you've made further modifications. Remove the custom ad blocker rule(s) and the page will load as expected.