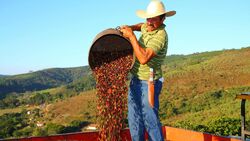 Mexicano Coffee is a major producer of wildly grown Arabica coffee coming from the rich Veracruz volcano soils. They also own "La Bendecida" in Playa del Carmen, Mexico.
Mexicano Coffee's website claims that their coffee is organic, pesticide free, and fresh. Their coffee is often called "alive" and is marketed as "completely different from regular store-bought coffee."[1]
References
Ad blocker interference detected!
Wikia is a free-to-use site that makes money from advertising. We have a modified experience for viewers using ad blockers

Wikia is not accessible if you've made further modifications. Remove the custom ad blocker rule(s) and the page will load as expected.