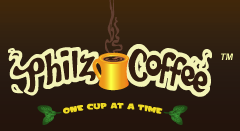 About Philz
Philz Coffee in San Francisco has developed a devoted following, and for good reason. The twenty blends that are now available by the pound are the result of 25 years of coffee alchemy and invention.
Phil Jaber and his son Jacob spent several months developing each blend. Phil's Tesora or "Treasure" blend took 7 years to find the perfect combination of beans. Only Phil and his son Jacob know the recipes.
If you are serious about coffee, we recommend you immediately fly down to Philz Coffee and try a cup of one of the 20 handmade coffees that are on the menu or get some Philz coffee shipped over to you.
Ordering at Philz (especially for newbies)
Philz specializes in single-cup, pour-over coffee drinks. They do not have any espresso-based drinks or blended drinks, like mochas, cappuccinos, lattes, etc.
A recommended drink for first-timers is a Tesora, which is a balanced flavor, or an iced Mint Mojito, a coffee blend with mint and sugar added.
Ad blocker interference detected!
Wikia is a free-to-use site that makes money from advertising. We have a modified experience for viewers using ad blockers

Wikia is not accessible if you've made further modifications. Remove the custom ad blocker rule(s) and the page will load as expected.