The "Plantec Coffee Estate" plantation is situated just north of the capital city of Kathmandu, which also places it as the northernmost coffee plantation in the northern hemisphere. They are the only producer and exporter of superior quality Himalayan snow water washed shade grown/organic/sundried green beans from the Himalayas. Their final product is 100% hand sorted and cleaned, and their operation has had a considerable impact on the livelihood of the local inhabitants of the region, especially in regard to its women's employment and training.
The company contributes to local reforestation, soil conservation, and wildlife conservation especially in connection with providing shelter to both migratory and non-migratory birds and endangered animals many of which have now returned after several years of absence in the vicinity.
Production
Plantec grows 100% Caturra (Arabica) Coffee organically at an altitude of 2200 - 2400 feet above sea level 70Km. (43.5mi.) north of the capital Kathmandu at the foot of the Ganesh Himal mountain range. Above this altitude, due to the proximity to the high Himalayan range, heavy frost in winter would adversely effect the coffee trees. At this latitude the chosen location is a very unusual frost-free valley in the northern belt of Nepal. The plantation is situated on the banks of the snow-fed Trisuli River, which is used to irrigate their fields and wash their parchment.
This historical district is known as Nuwakot from where the ruling Dynasty was established. As this area is renowned for its cattle, buffalo and other livestock projects we have the added advantage of abundant local organic fertilizers for multiple applications. In this way, the plantation further assists and encourages the local small-scale farmers.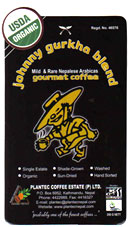 The Plantec Estate is presently producing around 150,000 kgs of fine green beans per year.
Coffee brands:
Plantec's most popular product is branded "Jalpa Gold" (for regional sales) & "Mount Everest Supreme" (for export).
Also available is the milder and more rare "Johnny Gurkha Blend."
References
Ad blocker interference detected!
Wikia is a free-to-use site that makes money from advertising. We have a modified experience for viewers using ad blockers

Wikia is not accessible if you've made further modifications. Remove the custom ad blocker rule(s) and the page will load as expected.