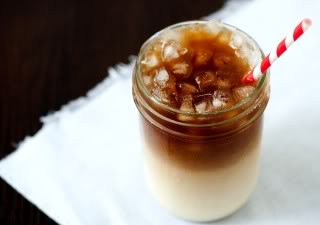 Thai Iced Coffee is a sweet and refreshing concoction. You can find it in most Thai restaurants and even some upscale coffee shops.
Ingredients
(SERVES 2)

2 large cups or glasses of strongly brewed coffee OR strong instant coffee (if using leftover coffee, briefly reheat)

4-6 Tbsp. sweetened condensed milk (to taste)

1/4 cup cream OR Carnation evaporated milk ice cubes
Directions
Pour hot coffee into a glass jug or other container for mixing/pouring. Add 4-6 Tbsp. sweetened condensed milk and stir well until dissolved. Add a few ice cubes and refrigerate 1 or more hours. To serve, place a few ice cubes in the bottom of each glass and pour the coffee over. Top with a few Tbsp. of the cream/carnation milk. Taste-test the coffee. You want it to taste strong and sweet. Add more sweetened condensed milk if you prefer it sweeter, or more cream/carnation milk if it's too strong or for a richer taste. (Note that this iced coffee is meant to be rather sweet). This iced coffee is xcellent as is, or serve with a shot of Cointreau, Bailey's, Kahlua, or your favorite liqueur.
Ad blocker interference detected!
Wikia is a free-to-use site that makes money from advertising. We have a modified experience for viewers using ad blockers

Wikia is not accessible if you've made further modifications. Remove the custom ad blocker rule(s) and the page will load as expected.