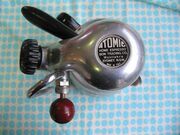 Many an aficionado would have you believe that design peaked with the Mid-Century Modern movement. And it did –but nowhere more convincingly than in the ATOMIC Espresso Machine.
Designed by Giordano Robbiatti in 1947, the iconic caffeine delivery device is a case study in "form following function."
As recent as four years ago, demand for vintage ATOMICA coffeemakers resulted in sales of mint condition specimens in the mid-thousands. Recognizing a potential market in re-issues, several entrepreneurial outfits began manufacturing ATOMIC-esque coffeemakers in China and India, with reproduction of the original design made by in Taiwan by La Sorrentina.
Colin Newell cites an unnamed "expert" on CoffeeCrew.com as observing hat "The history of the ATOMIC coffee maker is clouded in mystery, murder, industrial espionage and the occasional incestuous relationship." Though this quote reads like the jacket copy of a pulp novel, it does convey the sense of mystery that has long-shrouded the ATOMIC. Indeed, Robbiatti filed several international patents between 1946 (first in Robbiatti's native Italy) and 1986 representing the various innovations that were added to coffeemaker since its initial conception (a steam wand, for example) but little is understood about the man and what led him to devise such an ingenious device.
It is known, however, that Robbiati established his own factory in Milan in 1947 and produced the ATOMIC under his own name. Now it seems ATOMICs, or coffeemakers purporting to be ATOMICs, are produced everywhere. When I recently queried the forum at CoffeeGeek.com whether I should purchase a vintage or reproduction model of the ATOMIC, Len, a member of the Coffee Roasters Club, quickly replied, "Get a vintage Atomic in mint condition and never look back. There is a special kind of satisfaction one gets from owning a vintage item in mint condition that you will never get with a re-issue."
DavecUK, on the same forum, offered this video of the ATOMIC in action. Truly a site to behold...
Ad blocker interference detected!
Wikia is a free-to-use site that makes money from advertising. We have a modified experience for viewers using ad blockers

Wikia is not accessible if you've made further modifications. Remove the custom ad blocker rule(s) and the page will load as expected.