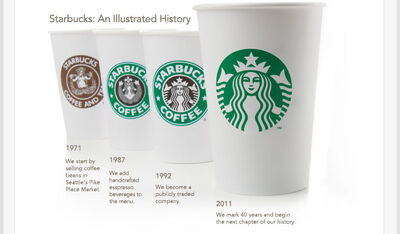 The discussion about the announcement of the new logo celebrating Starbucks' 40th anniversary was all over Twitter and the rest of the web quickly after the news was released. The Siren featured in the logo has been with the company since they started in 1971.
According to the Starbucks website, when looking for a logo and wanting to "capture the seafaring history of coffee and Seattle's strong seaport roots," they looked through old marine books when they found the the 16th century Norse siren. with a picture of a large detailed siren the next logo was a skinnier, simpler siren and they simplified to Starbucks Coffee.
Since they began they have changed the logo 3 times including the newest change. They implemented the green and black they are known for and the siren became skinnier and prettier over time, even thought their coffee size got bigger and the new drink had more calories.
I think change is inevitable and companies with as much power as Starbucks can change their logo and people will still buy their product. But most have something to say about the new logo, what do you think?
Ad blocker interference detected!
Wikia is a free-to-use site that makes money from advertising. We have a modified experience for viewers using ad blockers

Wikia is not accessible if you've made further modifications. Remove the custom ad blocker rule(s) and the page will load as expected.