Vienna Coffee is the name of a popular traditional cream-based coffee beverage. It is made by preparing two shots of strong black espresso in a standard sized coffee cup and infusing the coffee with whipped cream (as a replacement for milk and sugar) until the cup is full. Then the cream is twirled and optionally topped off with chocolate sprinklings. The coffee is drunk through the creamy top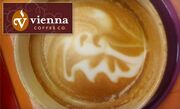 Ad blocker interference detected!
Wikia is a free-to-use site that makes money from advertising. We have a modified experience for viewers using ad blockers

Wikia is not accessible if you've made further modifications. Remove the custom ad blocker rule(s) and the page will load as expected.